July 12, 2023
I'm running out of superlatives to describe the Litchfield Watercade Tennis Tournament and it is because of YOU! The players, the fans, the volunteers, the sponsors – you are the best! This year's 44th Annual Litchfield Watercade Tennis Tournament again set records for player participation (107 players, 128 matches played over the 3 day tournament) which created an action and jam-packed schedule the entire tournament. With multiple recent Minnesota High School State Tournament participants along with multiple current and former college tennis players and some wily veterans, this year's tournament made for an extremely competitive field across all brackets of play. With that being said, the sportsmanship and camaraderie among players showed what a fantastic group of not just athletes, but great people, Litchfield welcomed over the weekend.
This year's tournament was again blessed with good weather and cooler than average temperatures for the 2nd week of July, but the courts were absolutely on fire with great matches from start to finish and the large number of supporters and fans made for a great atmosphere.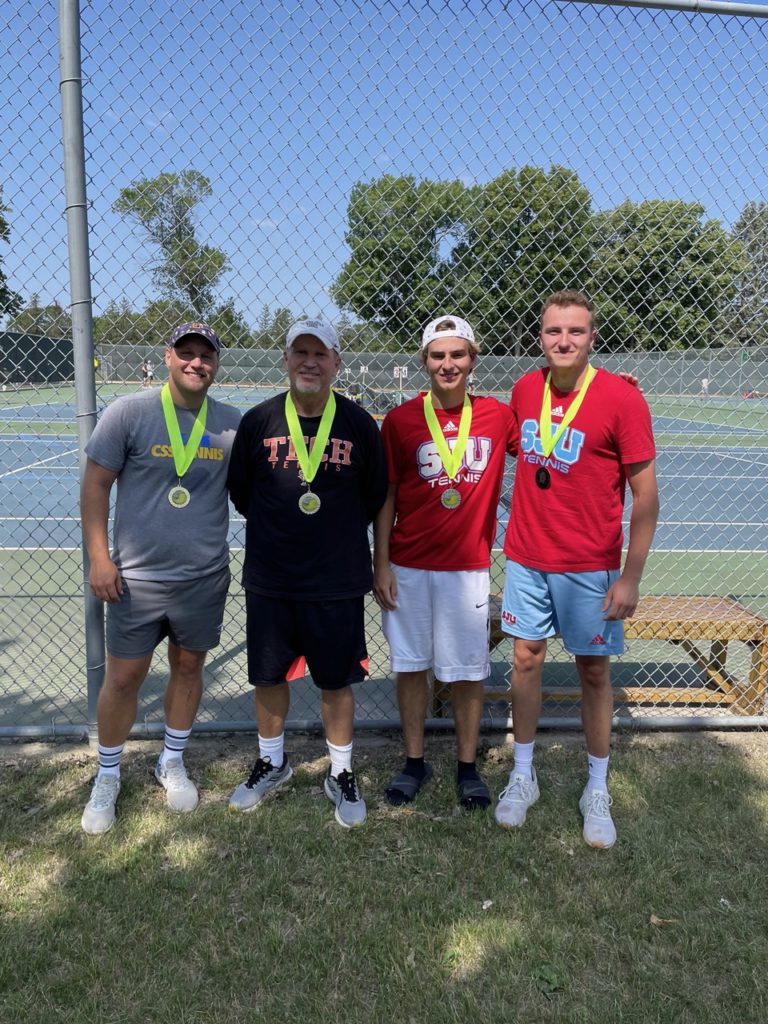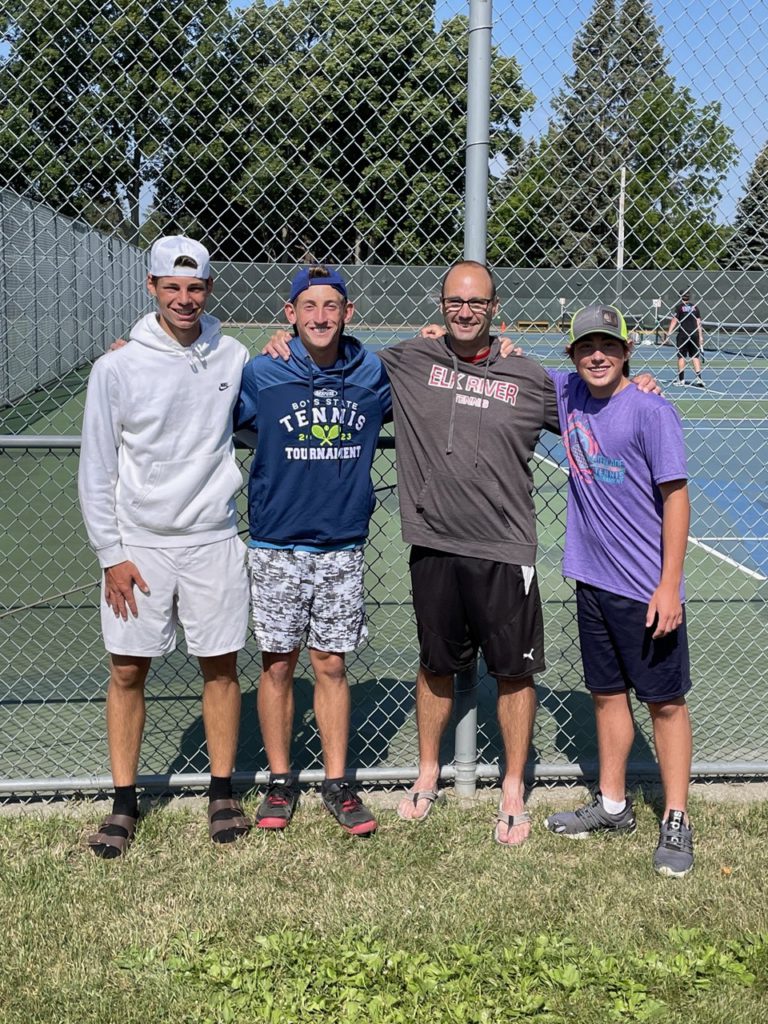 The Men's Open Doubles final featured the father/son team of Paul and Nick Bates defeating the St. John's University pair of Peyton Fischer and Wil McDowell 6-4, 6–3 and was a beautiful exhibition of tennis at its very finest.  Volleys being picked up off of the shoe laces, deft touch at the net, and punishing serves and returns made for an extremely tight match that was decided by but a few points.  Fischer (Spicer, MN), who played his high school tennis at Willmar before attending St. John's has played in many Watercade tennis tournaments and after graduating this year will be off to medical school in the fall.  Paul Bates, originally from Willmar, is the high school coach in St. Cloud and his game remains in fine form.   Paul's son Nick captained the St. Scholastica Men's Tennis team during his final two undergrad years and is no stranger to high level tennis.  
However, the finals was merely the cherry on top of a Men's Open Doubles division that was as strong and deep as the tournament has ever seen.  There were no easy matches in this draw, which had to be very satisfying for the consolation champions Ryan Schyma (Monticello) and Aaron Zoubek (Zimmerman / Elk River HS) who defeated another father/son team of Chad and Carter Fellows (Rogers) 6-2, 6-1 in the consolation final.  Keep your eyes on Carter Fellows in the future, as he is an up and comer with great strokes and instincts on the court.  Both Schyma and Zoubek have now been playing at Litchfield Watercade for a few years, and every year their results have improved against continually better competition.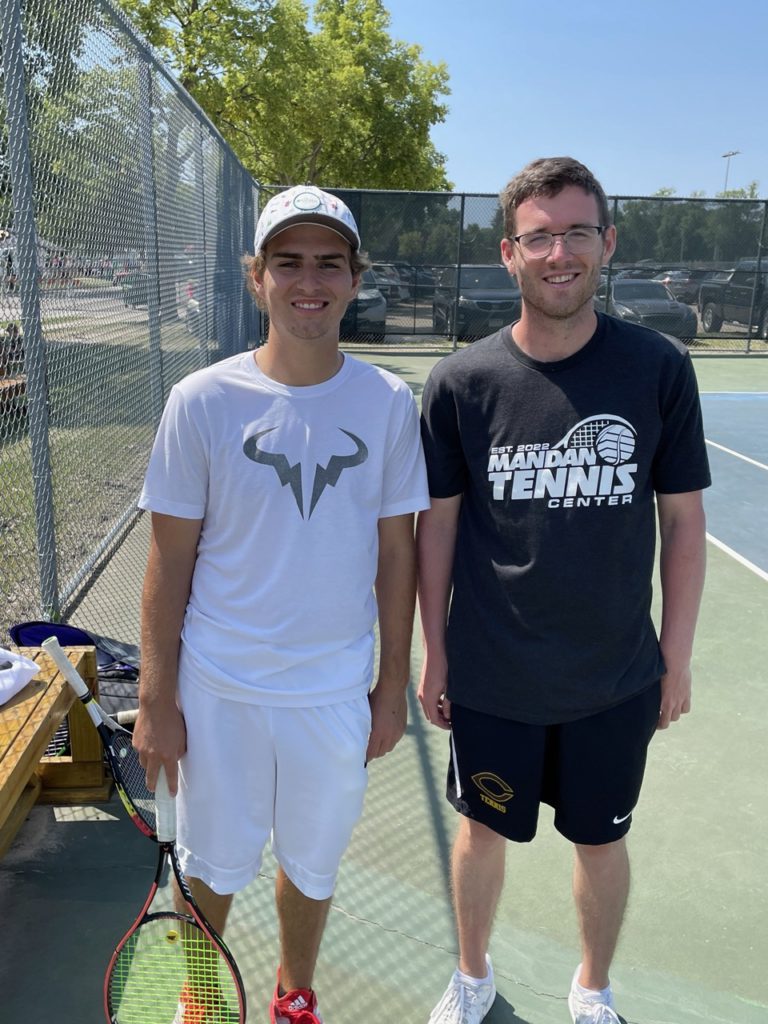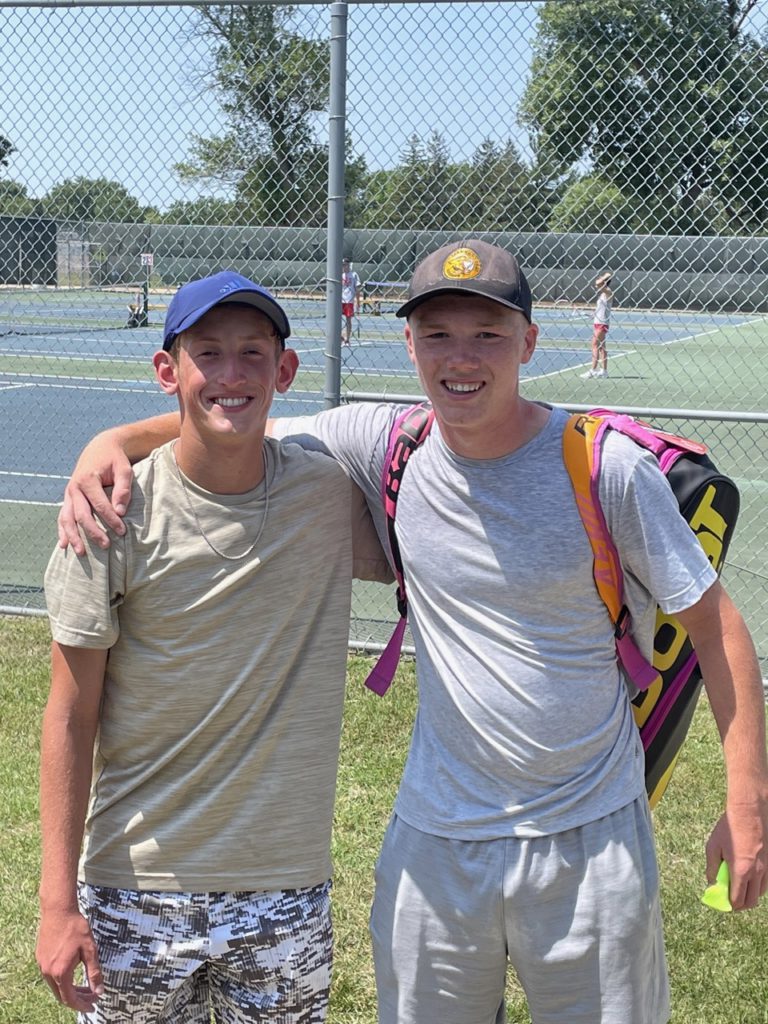 Wil McDowell (Sioux Falls, SD / St. John's Univ.) did not let the disappointment of the doubles final get to him as he rebounded to defeat Erik Porter (Mandan, ND) in the Men's Open Singles Final 7-6(3), 7-5 in a match that was every bit as tight as the final score.  Porter played tennis in college at Concordia Moorhead with Jared Saue, who has played and won the Men's Open Singles here at Litchfield Watercade in the past.  Saue, now the boy's tennis coach at Sartell invited Porter to play here in Litchfield as well as brought a couple of other Sartell high school players to the tournament.  Thanks!  We love getting all of these great players around the area to play in the tournament – it is such a great showcase of the tennis in the area!
The Men's Open Singles, just like the doubles was stacked with adult, high school, and college talent.  The consolation final featured Madden Vanderwerf (Mankato East) and Aaron Zoubek, playing in his second consolation final of the day.  Vanderwerf came out victorious 6-3, 6-2 in an extremely well played match.  Vanderwerf, who lost in a 3rd set super-tiebreak in the first round against Elk River's Carson Haack, both played doubles for their respective schools in this year's State High School AA Doubles tournament, each winning a match before bowing out of the tournament.  Both Vanderwerf and his doubles partner Quinn Kelly came to Watercade via Litchfield native and still dangerous in the draw, Josh Prahl.  Prahl is now the co-head coach of the boy's high school team at Mankato East.  Congratulations Josh!  And thank you for bringing these fine players to Watercade to experience the tournament!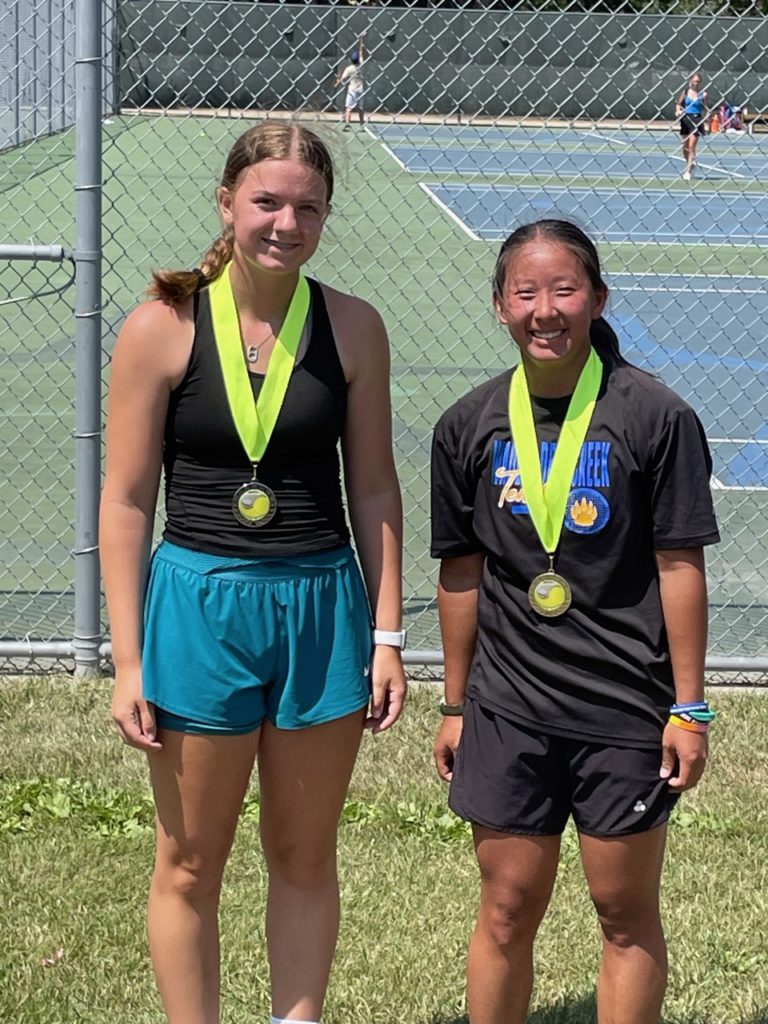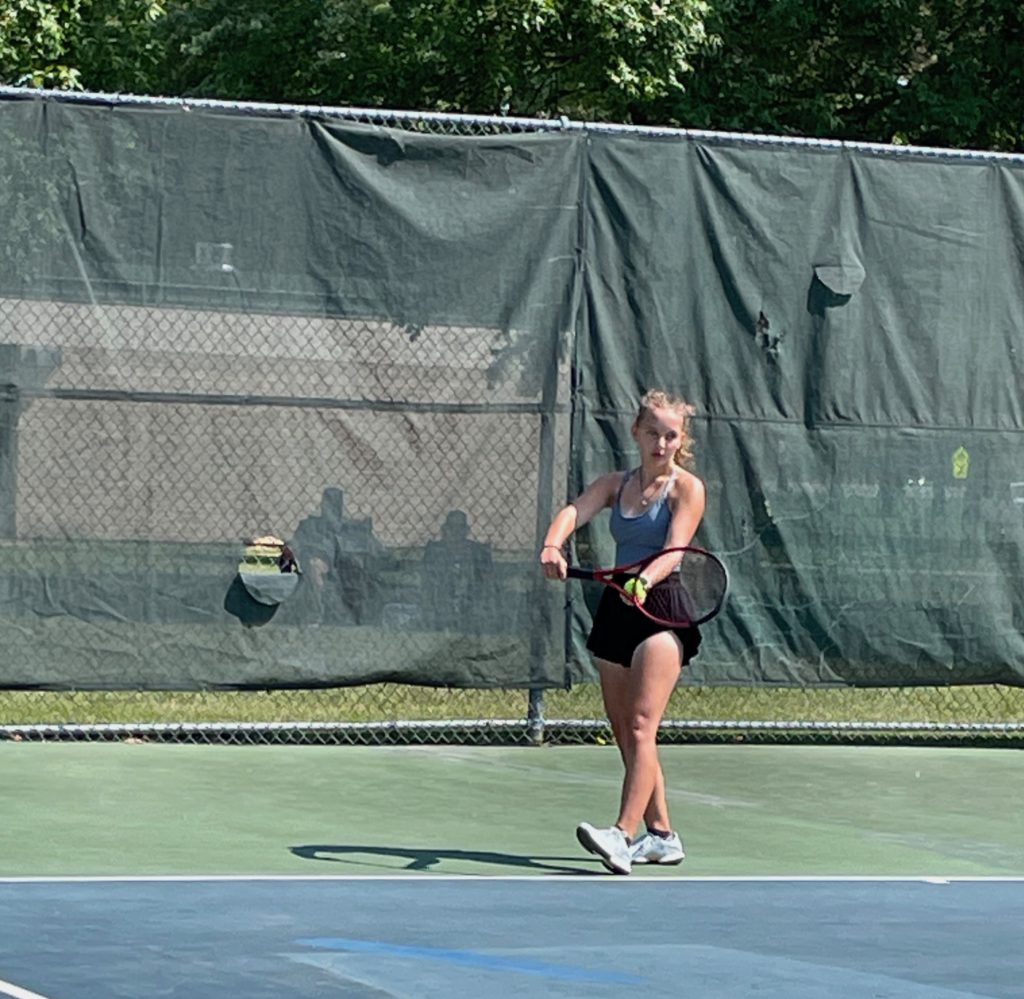 So what about the women's events?  There was no shortage of fine tennis here as well!  The Women's Open Singles final featured Madison Packer (Wadena / Gustavus Adolphus College) defeating Litchfield's Isla Dille 6-2, 6-4.  Both Packer and Dille rolled through the draw before Packer's grooved strokes were too much for Dille to overcome in the final.  However, Dille looks to be a force to be reckoned with for years to come for the perennially powerful Litchfield girls' program and her results from her first two years at Watercade (consolation winner last year and finalist this year) lend credibility to that.
Autumn Kron (Cold Spring, Rocori HS) recovered after losing to Litchfield finalist Isla Dille in the first round to win the Women's Open Singles Consolation championship with a 6-2, 6-2 triumph over Hutchinson's Norah Wendling.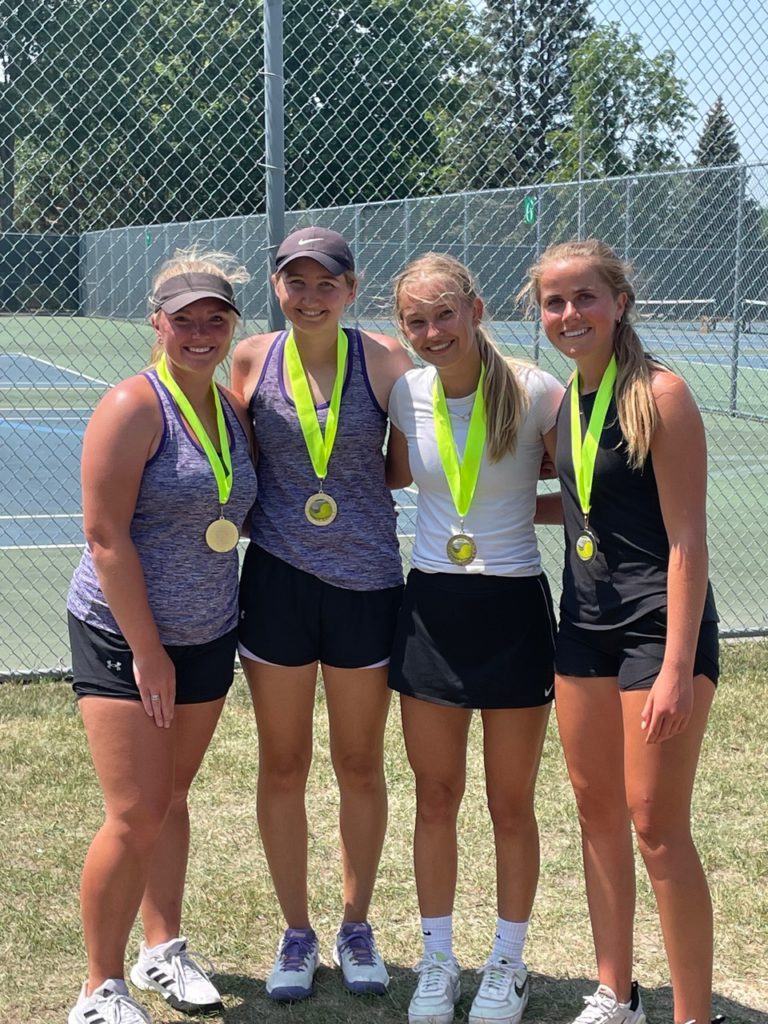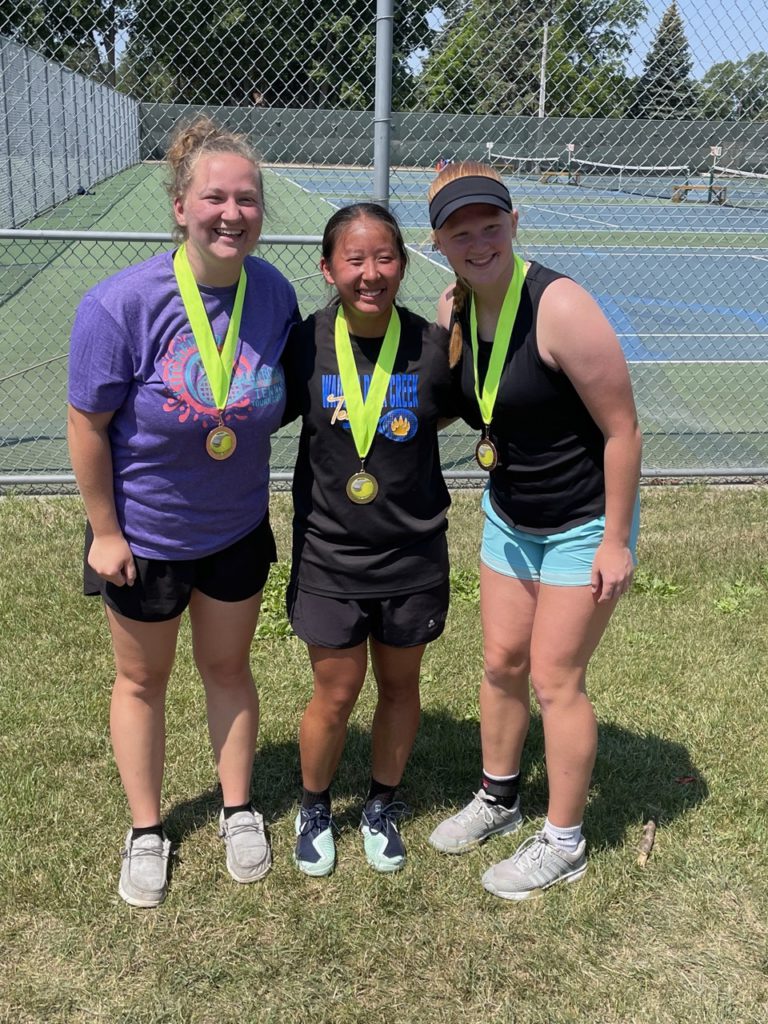 The Women's Open Doubles Final featured 3 of 4 players who played in the final at last year's Watercade Tennis Tournament.  Litchfield's dynamic duo of Karlee Prahl and Ryanna Steinhaus however were upended this year in the final by Anna Luksik (Otsego, St. Catherine University) and Kelsey Dorr (Princeton, St. Catherine University) 6-1, 6-0.  Luksik and Dorr played nearly flawless tennis throughout the tournament and Luksik avenges her loss to Prahl and Steinhaus in last year's final.  The rivalry may not stop here however, as Steinhaus will continue on in the fall to another MIAC tennis program, the College of St. Benedict.  Prahl will meantime continue to anchor the Litchfield girl's team.
In the Women's Open Doubles consolation championship, sisters Katie and Anna Fiemeyer (Wadena) defeated the Litchfield pair of Emma Anderson and Amelia Benson 6-1, 6-1.  As we said many times over the years, it has truly been a joy to watch players come back to the tournament and to see them grow as people and players.  The Fiemeyer's are yet another example of seeing players grow with the game and enjoying a taste of the success that can come with the hard work.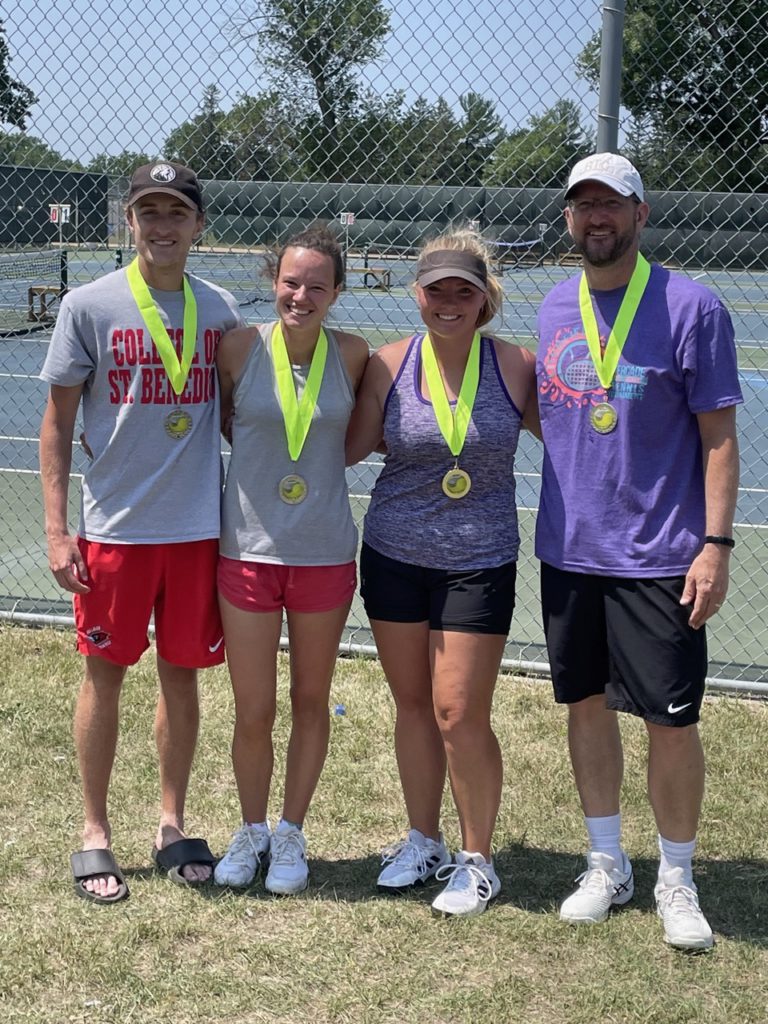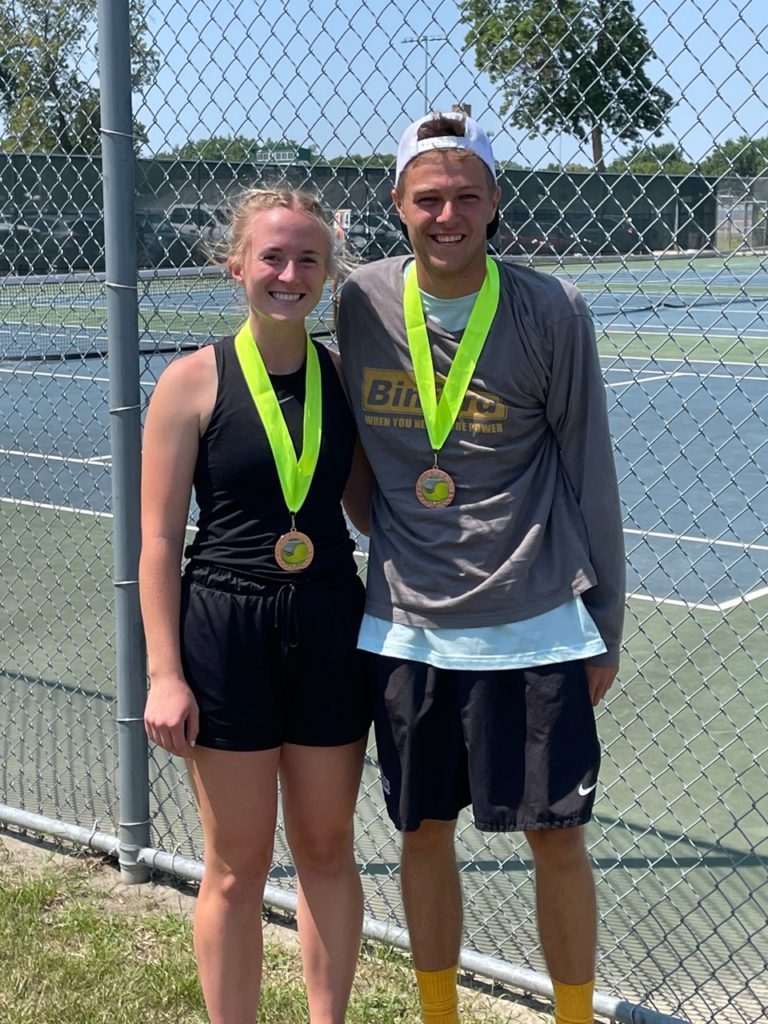 Steve Gramins (Elk River) and Women's Doubles champion Anna Luksik paired up to win the Mixed Doubles title with a 3rd set super-tiebreak victory over Will Fischer (Spicer, St. John's University) and Greta Nesbit (Le Sueur, College of St. Benedict) 7-6(5), 4-6, 10-4.  Gramins and Luksik had ice water in their veins throughout the tournament as they won the 3rd set super-tiebreaks in their quarterfinal matchup over Jack Geurkink (Hudson, WI, University of Northwestern) and Angel Beaufeaux (Shoreview, University of Northwestern), again in their semi-final matchup (11-9) over Litchfield's Josh and Karlee Prahl, before the repeat performance in the final.  Gramin's and Luksik also won 2 set tiebreakers along the way to the title.
The Mixed Doubles draw was ridiculously deep and coming through the consolation bracket to take the title was Ana Marquardt (Parker's Prairie, University of Northwestern) and Stewart Morrell (Elk River, University of Northwestern) with a 6-4, 6-4 victory over Litchfield brother/sister combo of Tyson and Kylie Michels.  The Michels duo had the unfortunate draw of Gramins/Luksik in the first round, but battled back through consolation to the final.  Kylie, will be joining Tyson (a junior to be) at the University of Minnesota in the fall.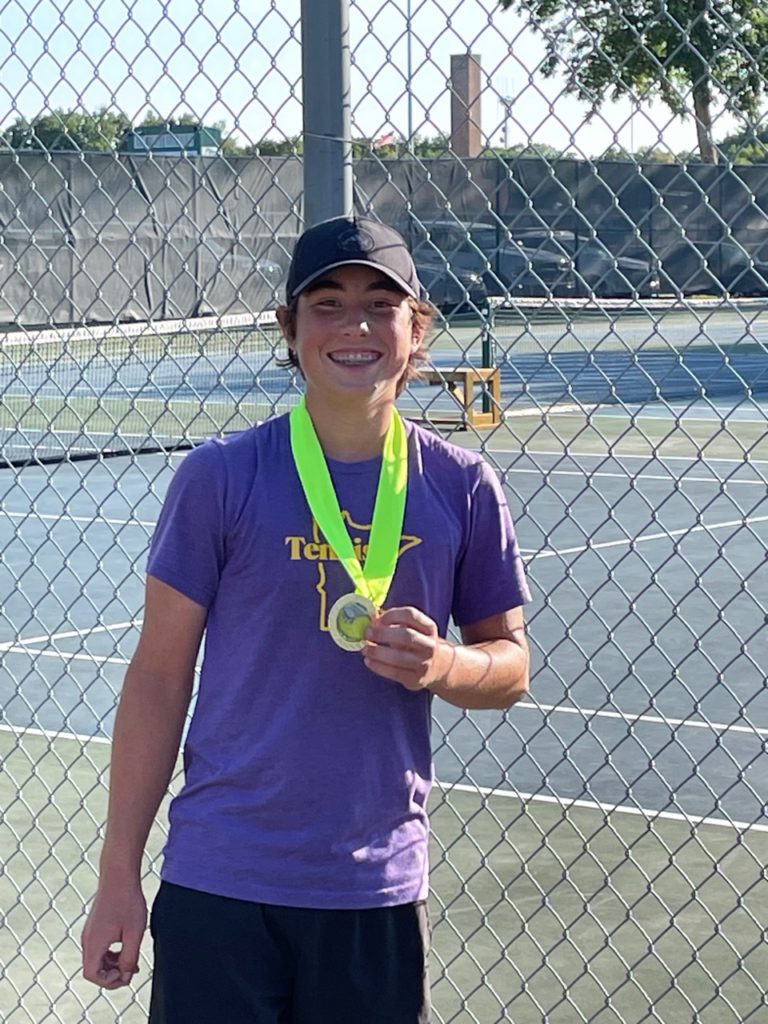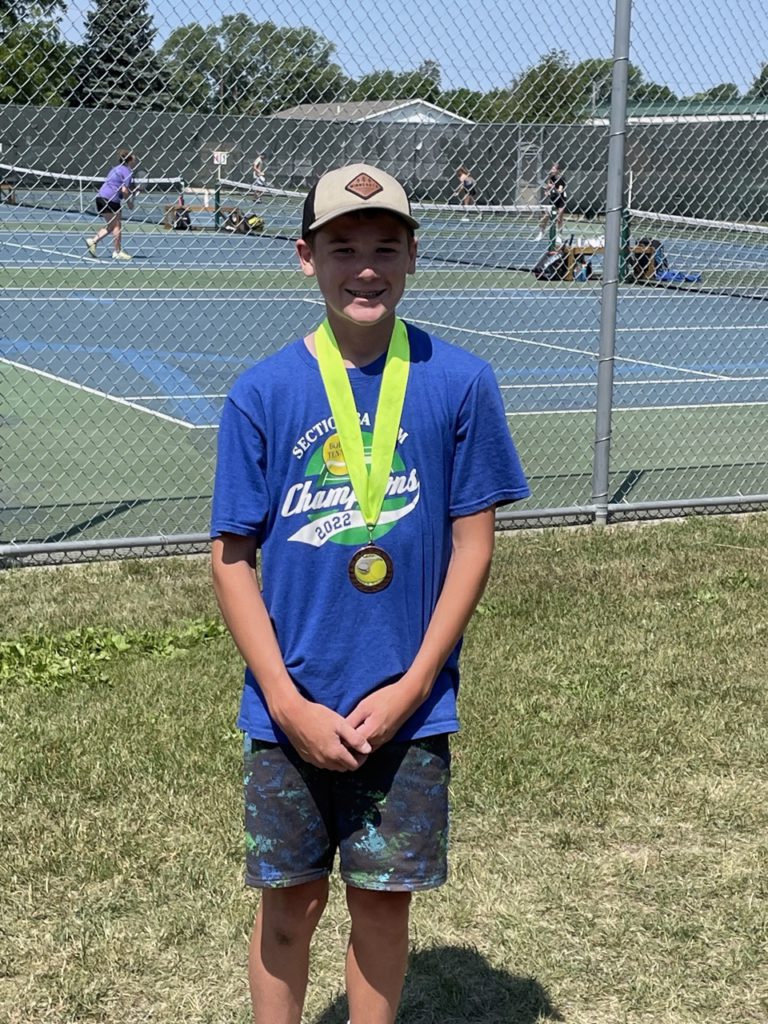 The Men's A Singles final was won by Carter Fellows via a walkover over Michael Gutman.  Both players battled through the draws to the final with Fellows scoring an impressive 2-6, 7-5, 10-8 3rd set super tie-break win over Brian Pederson (Bismarck, ND) to get to the final.  Gutman meanwhile beat up and coming Litchfield player Tommy Whitrock in the semi-finals after overcoming St. Cloud's Ben Marohl 4-6, 6-4, 13-11 in the quarterfinals.  Unfortunately Gutman, who is a medical resident at the University of MN hospital had rounds on Sunday and could not return to the tournament.  But we thank you for your participation and making time for the tournament from what we know must be a very busy time as a medical resident. 
The Men's A Singles consolation final was won by Carter LeClair of Glenwood over Ben Marohl 6-1, 6-1.  Carter's brother, and past Litchfield Watercade participant, Hunter played in this past year's Minnesota State High School Tournament and Carter's smooth strokes may have him right in big brother's footsteps.  LeClair unfortunately drew champion Carter Fellows in the first round and lost in a tough 3rd set super-tiebreak 4-6, 7-5, 10-5 before coming back through and winning the consolation championship.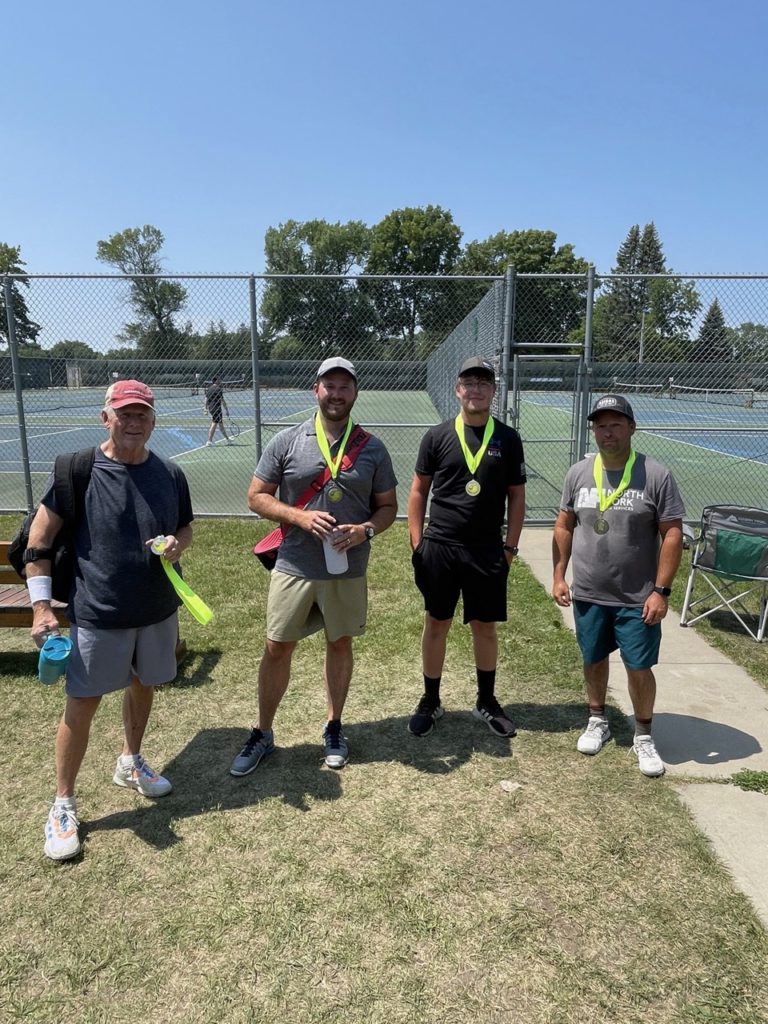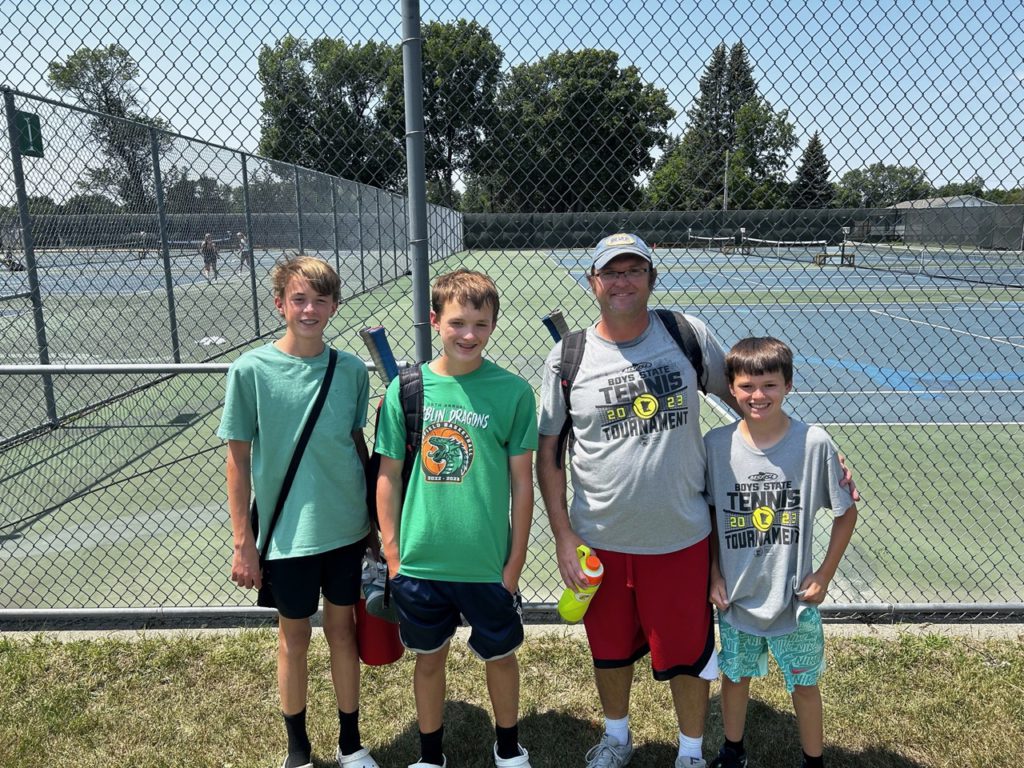 The Men's A Doubles had a mix of familiar faces and up and comers.  The Litchfield pair of Nathan Wuotila and former champion Josh Weseman just got stronger as they went through the tournament and were firing on all cylinders in the final defeating Litchfield's Bob and Alex Kopplin (now of Minneapolis) 6-0, 6-0.
The Men's A Doubles consolation final was a family affair as Justin and Andy Wittrock defeated Tommy Wittrock and Grayson Swenson 6-2, 6-2.  I trust that there was no family discord after the final, but if shoes were tied together, or some other high-jinx occurred, there might still be some lingering bitterness after the final!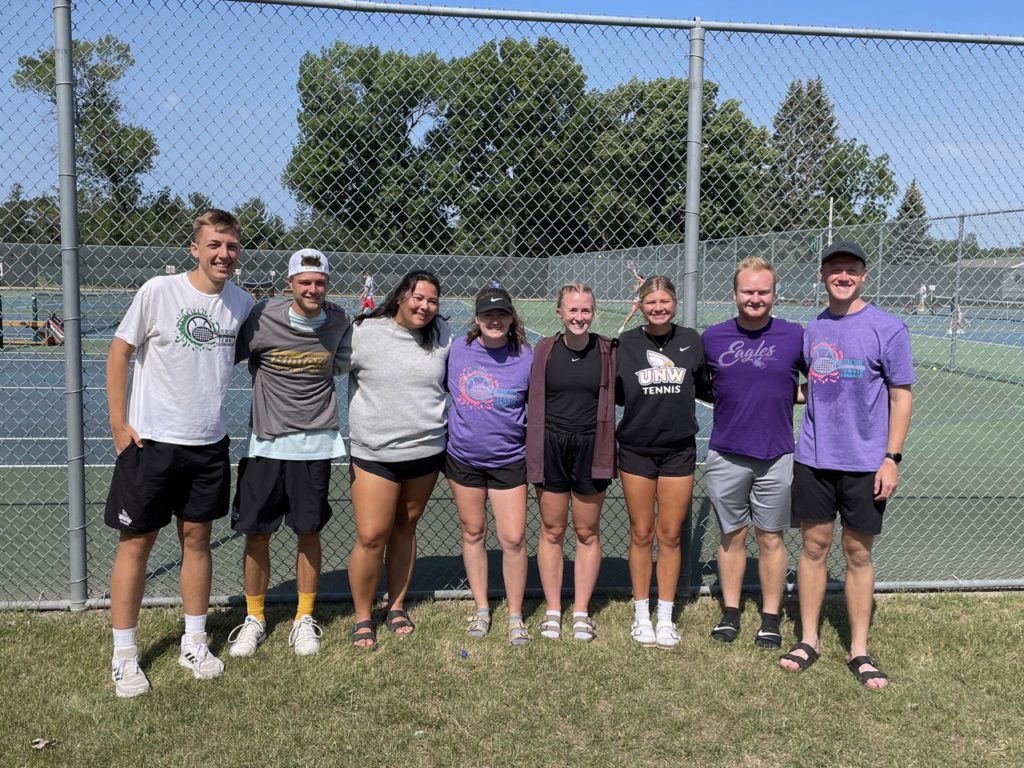 There were so many great matches, we just cannot recap them all here, but thank you to everyone who participated in this year's tournament.  To those who helped out when one of the nets snapped and had to be replaced during the busiest part of the tournament, and for having patience as we fit all of this year's matches in.  We loved having the University of Northwestern crew out again this year for the tournament!  It is such a joy to have you here and you are great ambassadors for the game!  Even with Taylor on her honeymoon, you still came out to play and cheer.  Bravo!
As we do following the end of each tournament, we will review what went well and what can be improved upon as we always aim to try and provide the best experience possible for everyone.  But really, it is what you bring with you that makes the tournament so special, and with that, we will drop the curtain on this year's tournament.  Wishing you all good health and good fortune over the coming year.  Thank you again for choosing to spend your time with us at the 44th Annual Litchfield Watercade Tennis Tournament!  Mark your calendars for next year's 45th anniversary event: July 12-14, 2024!
Previous year recaps:
2022: https://www.watercadetennis.com/tournament-recap-2022/ 
2021: https://www.watercadetennis.com/tournament-recap-2021/