July 13, 2022
I spent some time reading last year's tournament recap (you can read it here) and reminisced about how memorable the tournament was. The 2021 tournament was our largest tournament since Evonne and I took over stewardship of the tournament in 2014 from Mike Miller and John Carlson, who put their heart and soul into the tournament for 35 years to build the tournament into the staple of Watercade that it is today. Now that the dust has settled on 43rd edition of the Litchfield Watercade Tennis Tournament, the tournament continues to uphold the legacy that Mike and John painstakingly built.
The three-word summary for the tournament could be summarized with: growth, perseverance, and community. Growth can be measured several ways. We could talk about the numbers. The 2022 tournament had over 90 participants competing in 7 tournament draws, 43% of the players played in the maximum 2 events they could register for. Over 110 matches were played over the 3-day tournament. All these numbers easily surpass the previous high numbers that we had achieved in last year's tournament. (Note – our records only go back to 2014 when we started recording this information – there were likely larger tournaments in the past). The large number of entries required the use of all 8 courts at the high school and 4 courts at the Armory for much of the tournament.
Another way that you can look at growth though is through the development of players over the years. The tournament has been blessed to have junior players from Litchfield and the surrounding area return year after year and see their skills develop firsthand. Starting there, Litchfield to be senior Ryanna Steinhaus and to be sophomore Karlee Prahl won a strong Women's Open draw with a 6-1, 6-1 victory over Anna Luksik and Kate Christiansen from Rogers in the final. Karlee has been playing in Watercade since the summer of going into 6th grade! But with an indomitable spirit and perseverance she is becoming the next in what has become a long line of standout Litchfield girls players.
Perseverance is also a word that describes many of this year's consolation champions. Draws can be tough, and nobody likes to find out that they had to play the tournament champion in the first round. It can be easy to mentally mail it in, but you didn't see any of that at Watercade. The first example was our Women's doubles consolation champions Hannah Mayer and Rebecca Rousslang who battled to a 6-2, 2-6, 10-3 victory over the solid Litchfield duo of Kaitlyn Palmer and Sophie Stilwell. Mayer and Rousslang drew the champions Prahl and Steinhaus in the opening round.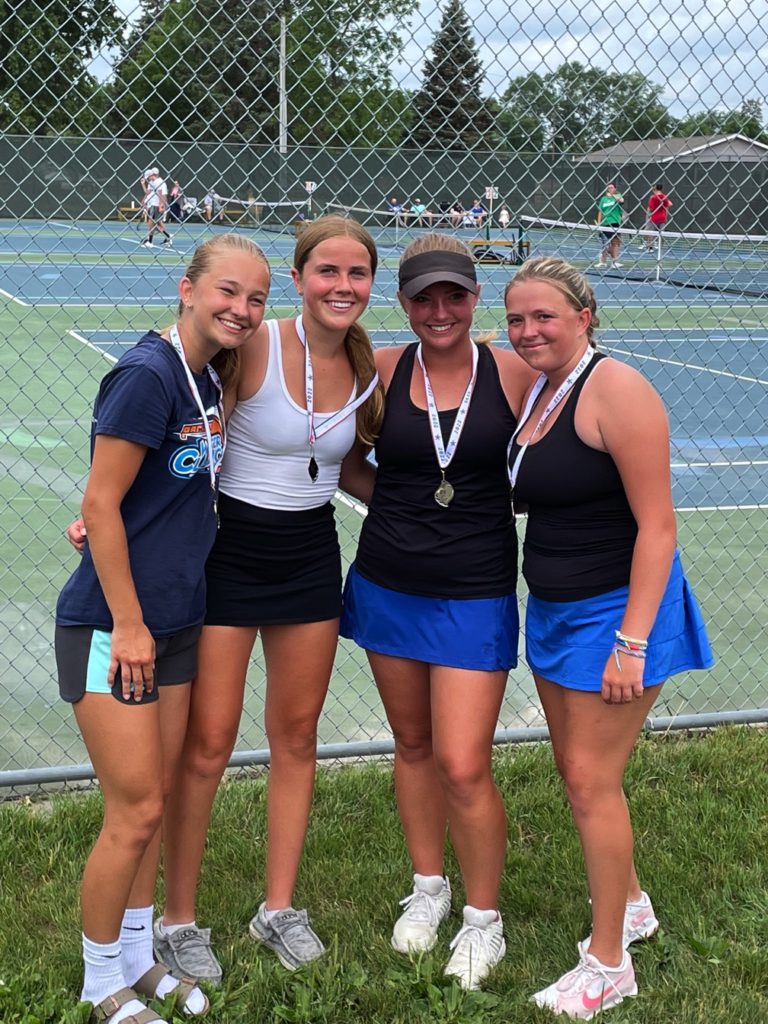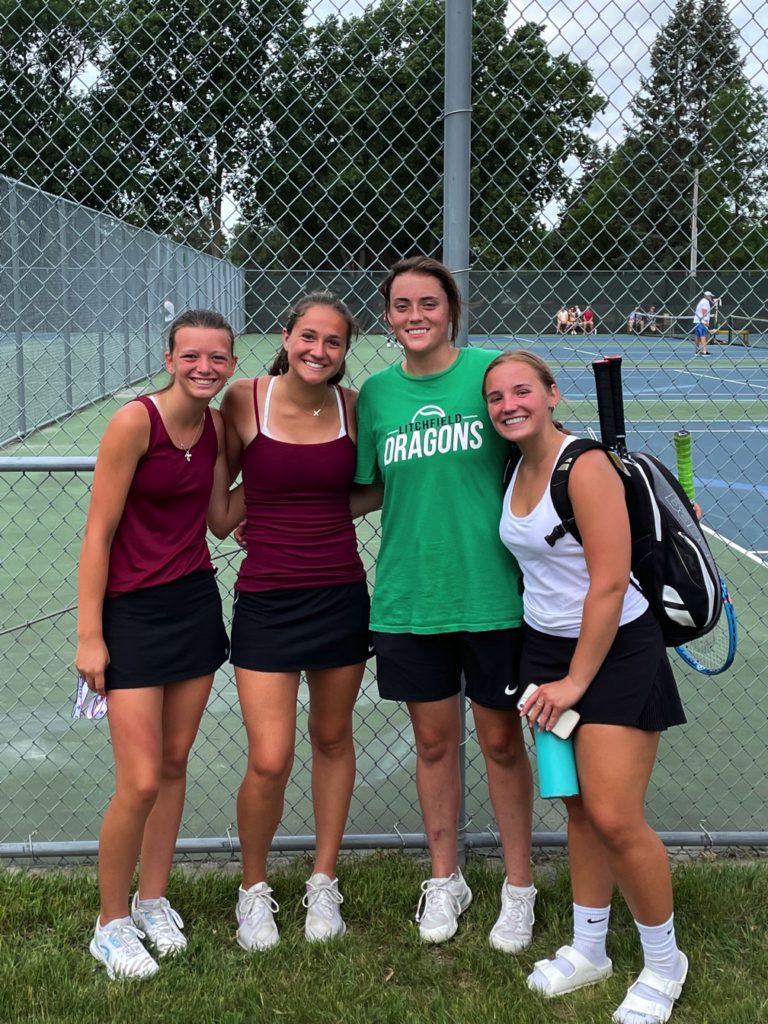 Perseverance also embodies Litchfield to be 8th grader Isla Dille as she drew the Women's open champion and Wartburg college freshman from St. Michael, Meadow LaDuke in the first round. Dille won the women's consolation championship with a 6-2, 6-3 win over Hannah Mayer. In the main draw, LaDuke played sublime tennis from start to finish throughout the tournament and capped if off with a 6-0, 6-1 win over Isabelle Schmiesing from Spicer in the final. Schmiesing, who will be attending UW LaCrosse in the fall, played excellent tennis throughout the tournament and final, but could not find the answer against LaDuke in windy conditions in the Sunday morning final.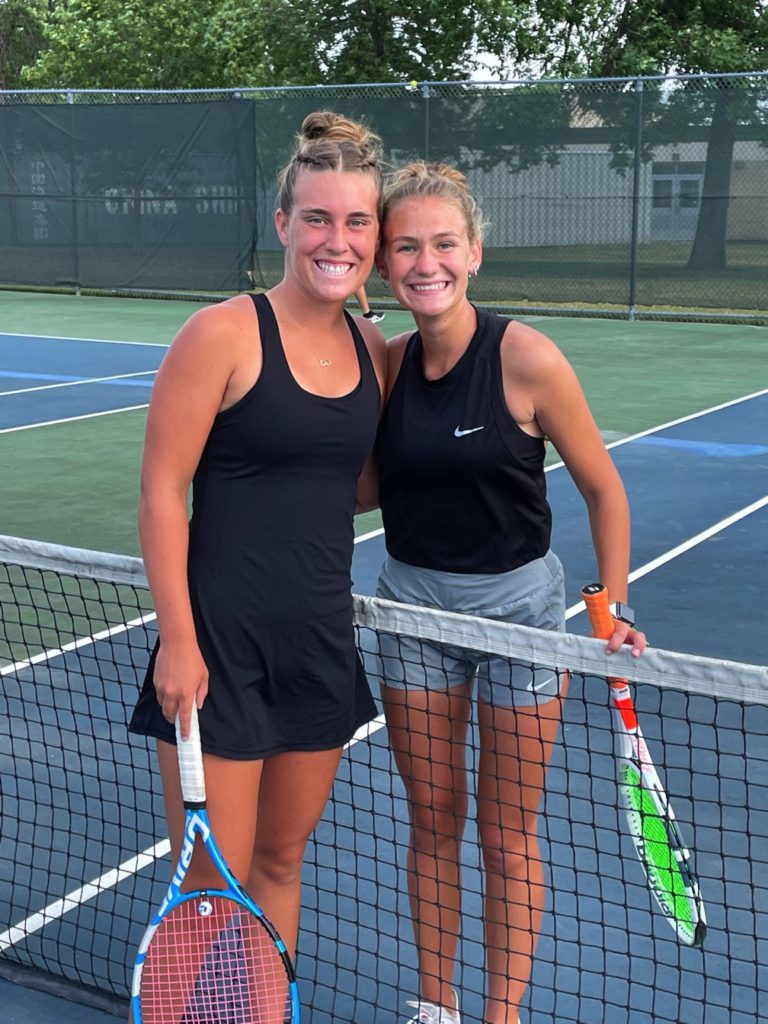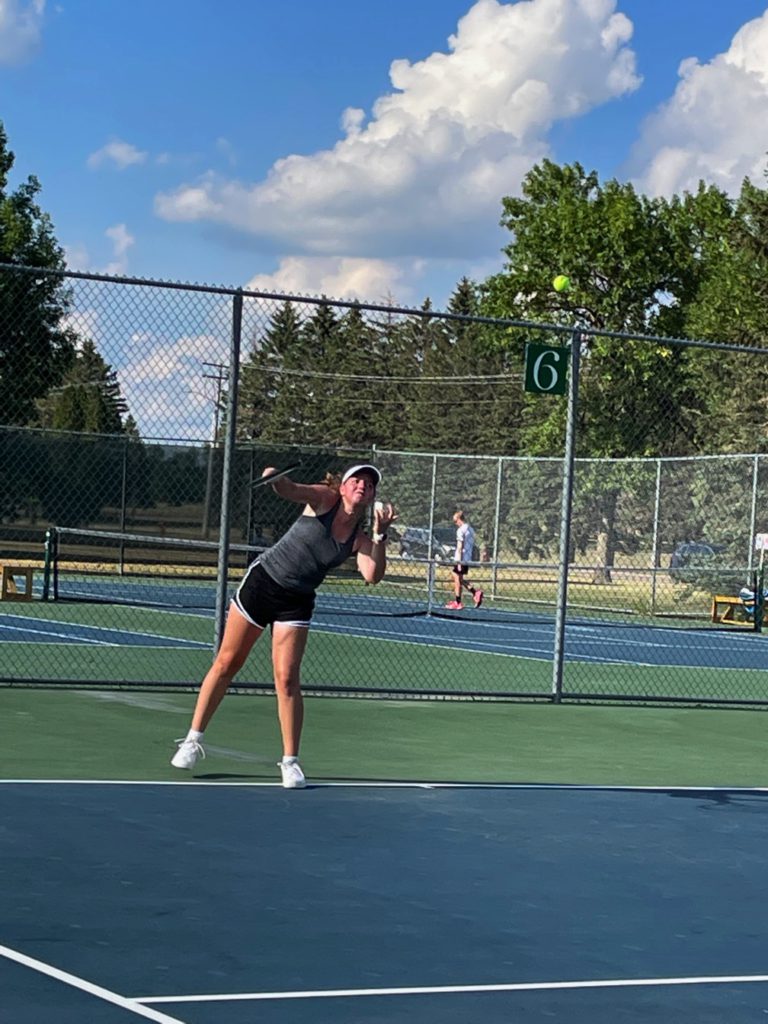 On the men's side growth and perseverance again were found throughout the draws.  Men's champion and University of Northwestern sophomore from Elk River Stuart Morrell took home the title with a 6-3, 6-2 win over Litchfield native Patrick Boerner.  Boerner has recently returned to the tournament after playing on some extremely strong Litchfield boys tennis teams in his youth.  Boerner had to overcome many obstacles on his path to the final including having to play his doubles partner in the first round (ed: Sorry about that), another University of Northwestern player, Darin Rupp in the quarters, and recently graduated Litchfield standout Mason Woelfel in the semi-finals.  If that isn't perseverance, how about the consolation champion Griffin Jarchow from Luverne, MN, who had to play champion and future UNW teammate, Morrell in the first round before coming back through the consolation draw to win the consolation championship over to be Monticello junior Ryan Schyma 6-2, 6-0.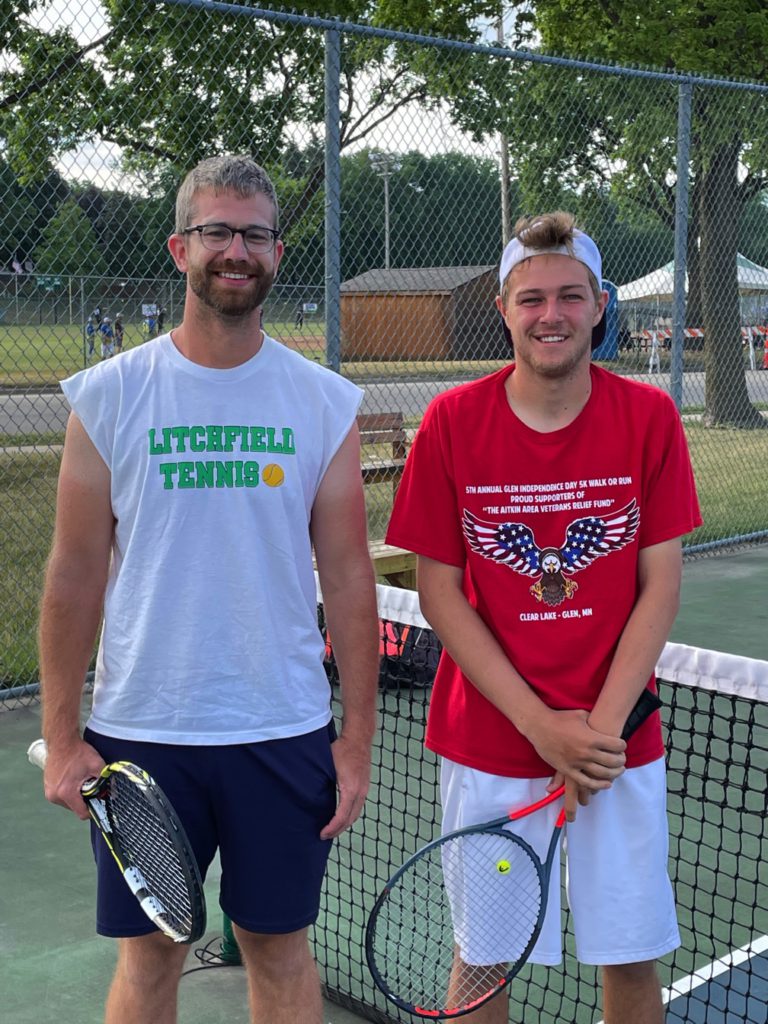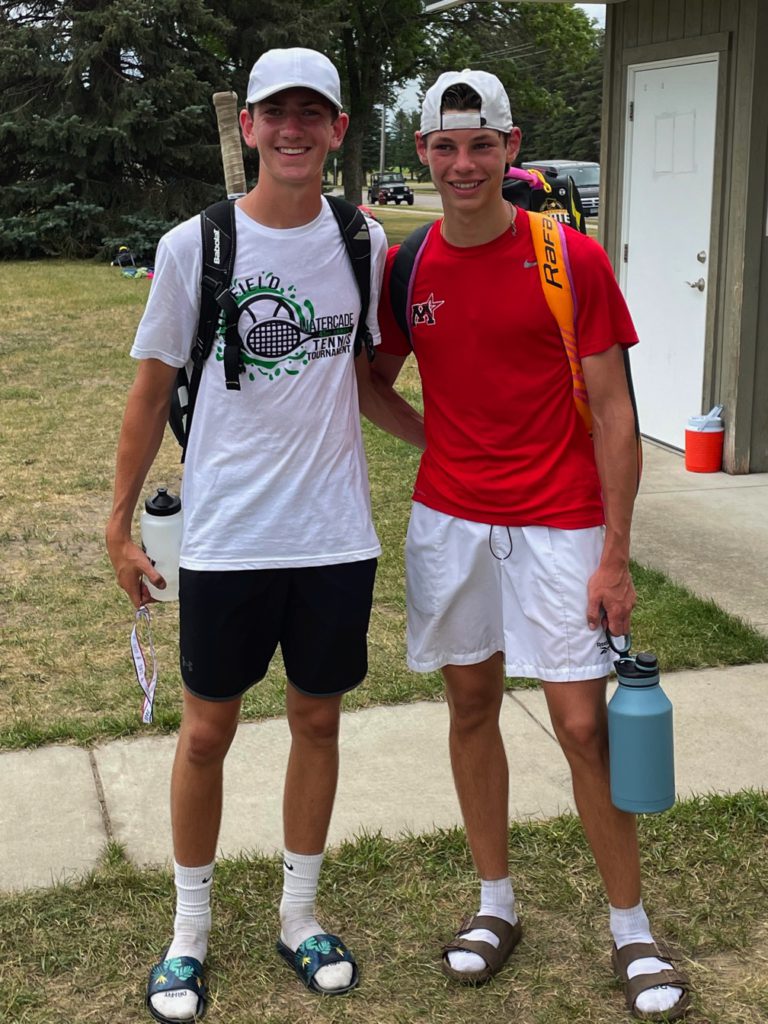 The men's open doubles draw was a gauntlet unseen in my years either as a player or administering the tournament.  Top to bottom, the draw was filled with talented high school, college, and adult players.  Every match, main or consolation draw, was a must-see event.  Recent UNW alumni Davis Pfaff (Maple Grove, MN) and Landon Ridpath (St. Cloud, MN) took home the title 6-4, 7-6(7) in a nail-biter over Kyle Jordre (Spicer, MN) and current St. John's University senior to be Peyton Fischer.  Peyton Fischer is one of the Spicer / Willmar High School triplets, with brothers Hunter and Will who graced the Litchfield Watercade courts during their high school years.  All three Fischer brothers are playing tennis at St. John's University, and it was exciting to have Peyton back at Watercade this year.
With all the firepower in the men's open doubles draw, the consolation bracket was a hotly contested affair as well.  Stuart Morrell and Darrin Rupp took home the consolation crown after dropping the first set 3-6, 6-1, 10-6 over recently graduated Tyler Rousslang and to be junior Ryan Schyma of Monticello.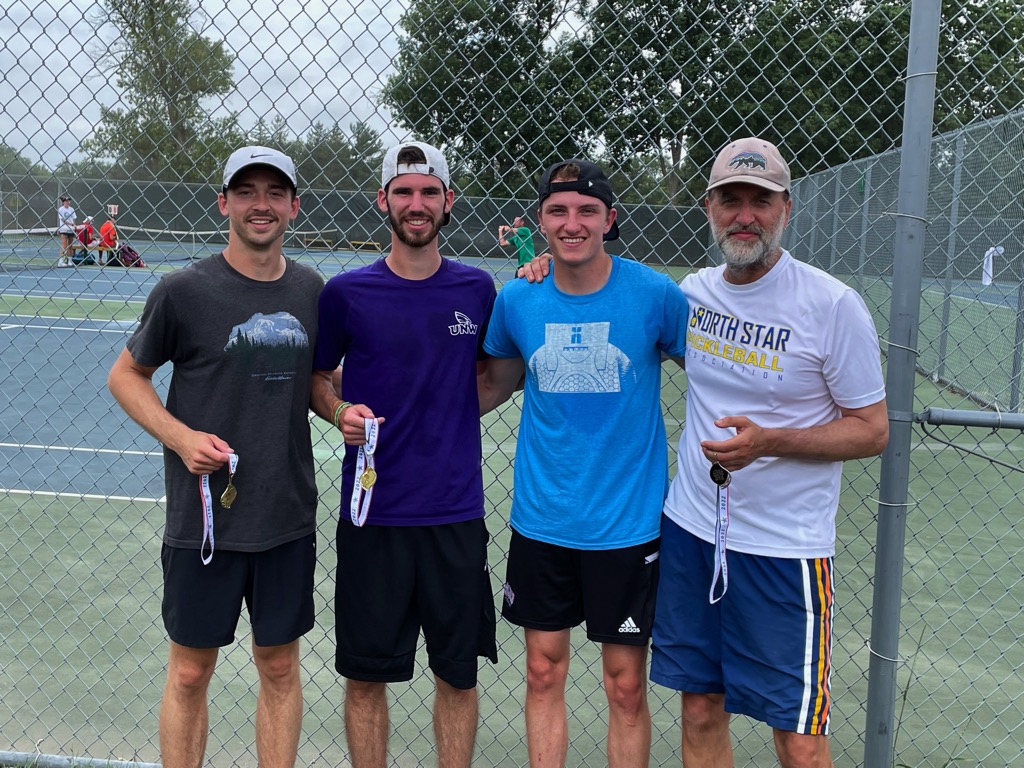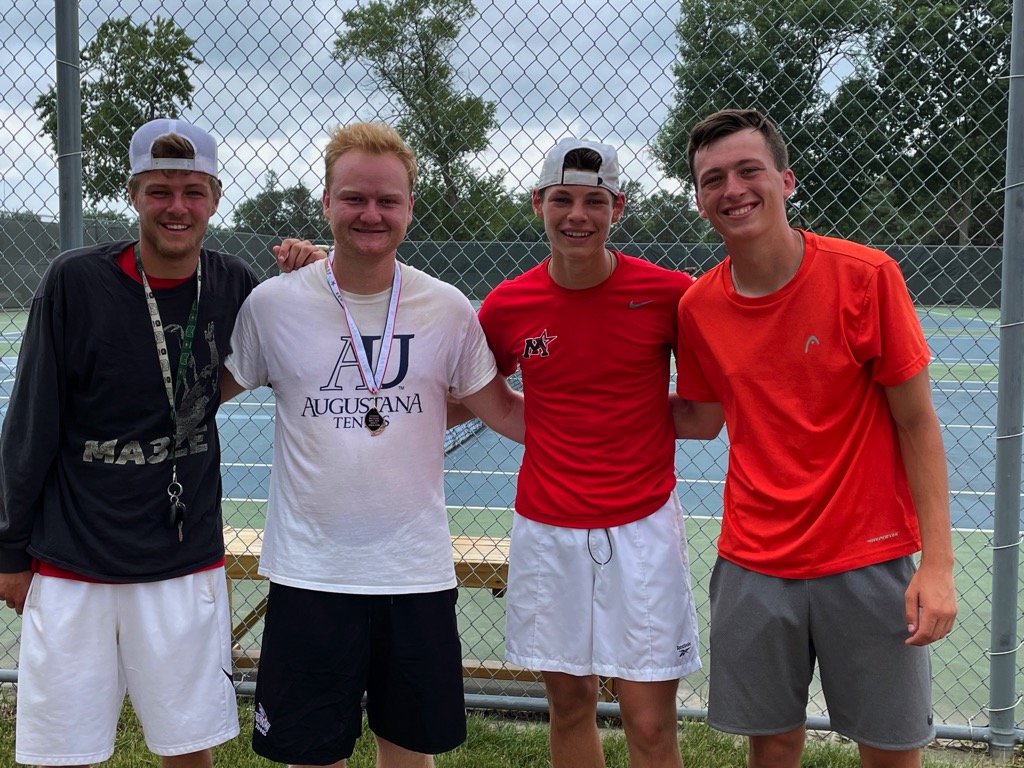 Tyler Rousslang is another player Litchfield Watercade has been able to watch grow over the years. Tyler, recently graduated and scheduled to be on his way to Hamline University in the Fall, has been playing in Watercade since he was in 6th grade! He had taken some early lumps, as young players often do, but every year came back better. This year, in addition to the men's open consolation championship, he teamed with his sister, to be sophomore Rebecca to make the Mixed Doubles final. They came up just short to UNW sophomore Elle Dodge and Davis Pfaff, who doubled up his championships after winning the men's doubles earlier Sunday morning, 6-2, 3-6, 10-5. UNW Junior from Hudson, WI Jack Geurkink teamed up with Litchfield's own Taylar Smith to win the Mixed Doubles championship 6-1, 6-2 over Chad and Isabelle Schmiesing of Spicer.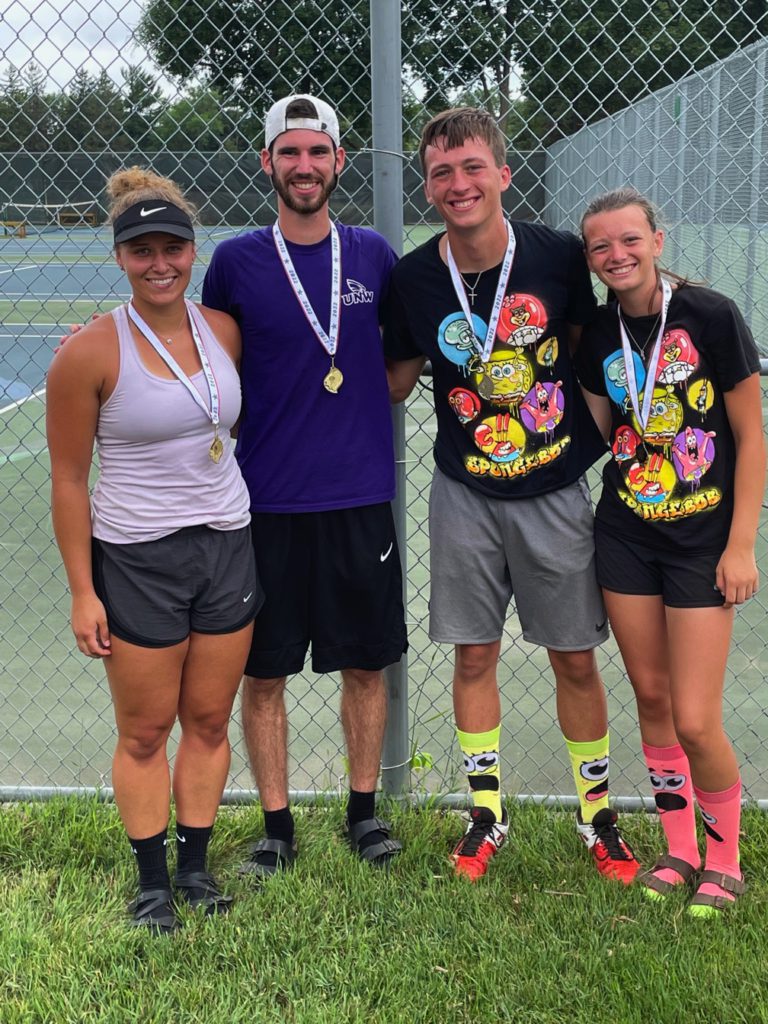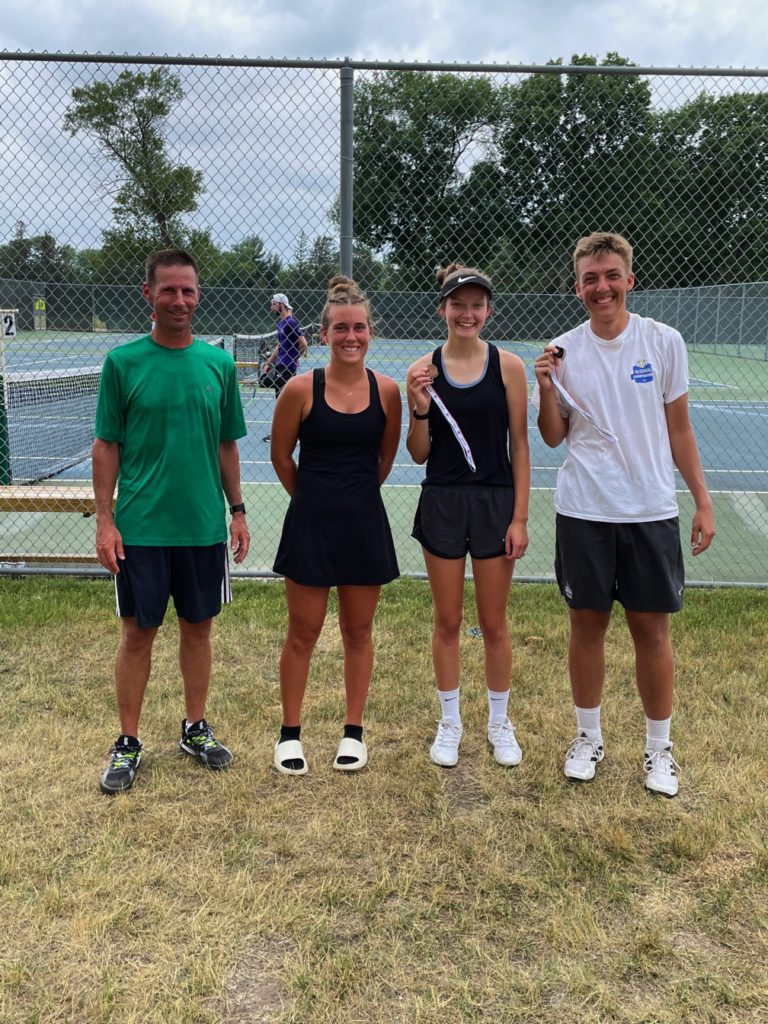 The men's A singles and doubles featured some good tennis, but Litchfield natives Justin Wittrock and Darin Swenson took home the doubles title with a 6-3, 6-3 triumph over Tim and Wyatt Hanson of Monticello. It should be noted that Mike Miller and John Carlson refuse to go silently into the night as they created all kinds of havoc on the draw, advancing to the semi-finals before falling to the Hansons. On the singles side Aaron Zoubek of Zimmerman, MN (Elk River HS) took home the title with a 6-2, 6-1 victory over friend and teammate Carter Fellows.
On the consolation side, let's talk about Litchfield's recently graduated senior Brady Cannon. Brady, a victim of bad draw luck lost a tough singles match Friday evening, and a third set tiebreak in his opening round doubles match on Saturday morning. However, due to the Watercade Parade being moved up to 4:00 PM, Cannon finished a consolation singles match before marching in the parade, then played 4 matches on Sunday to win the Men's A consolation championship 6-3, 7-5 over Litchfield player Lincoln Dille and then making the Men's A doubles consolation championship with partner Dawson Richardson before falling to Brett and Eric Oberg of Hutchinson 6-4, 6-3. Coming off the court Sunday afternoon, Brady told his family that he was going to work out after the match. I really hope that was tongue in cheek! Brady is another Litchfield player that has played in the tournament for a number of years, and it has been really enjoyable to watch him and other Litchfield High boys' players (Alex Draeger, Braden Olson, Garrison Jackman, and others) grow and develop not only into fine tennis players, but excellent young men who represent the community so well.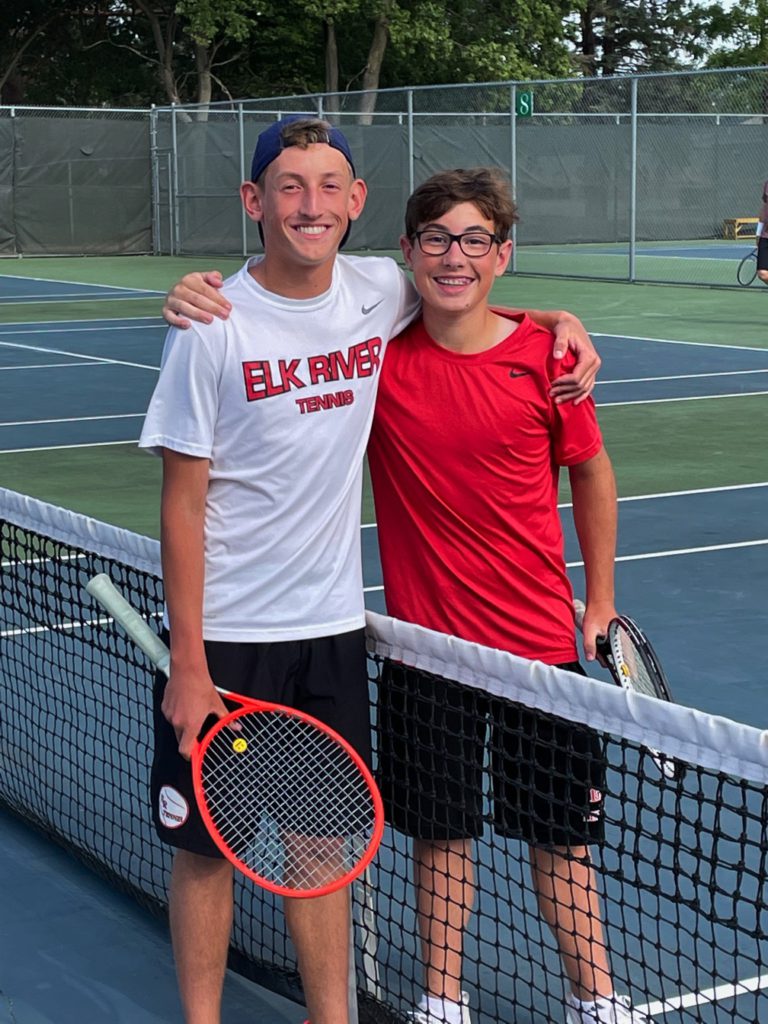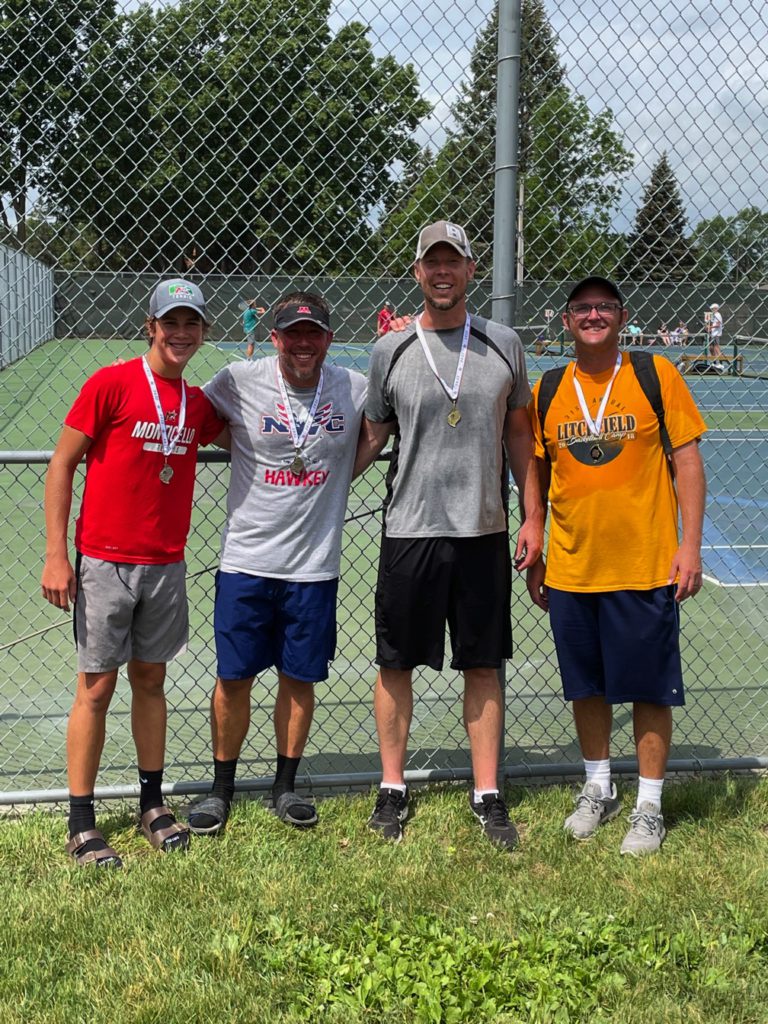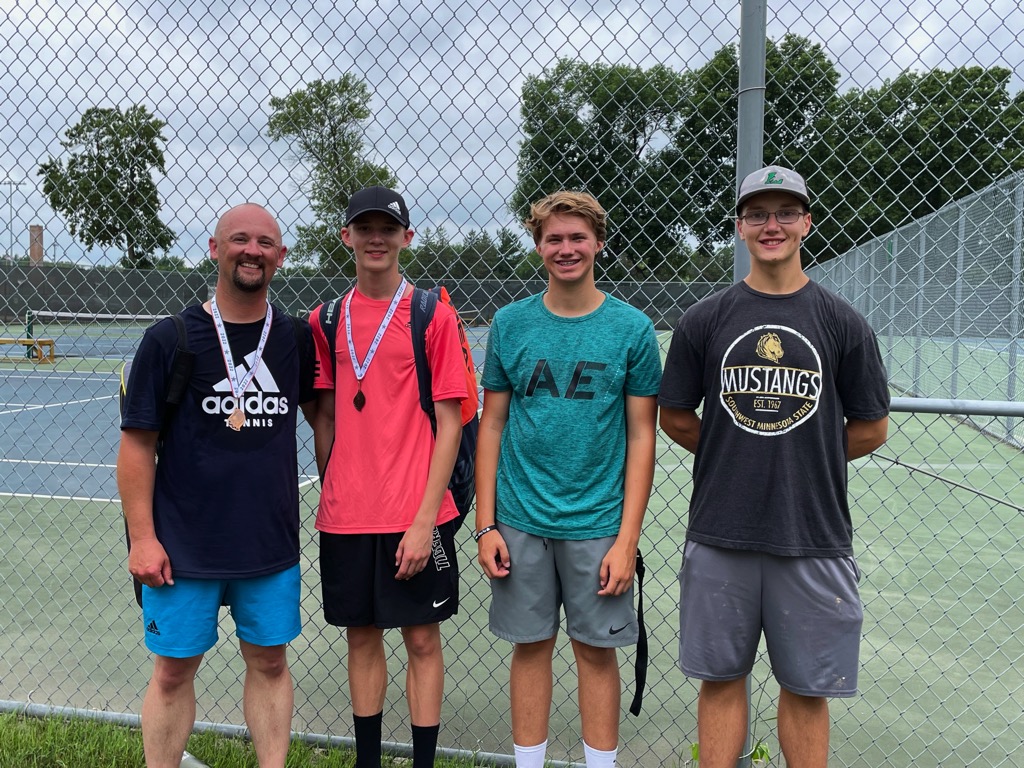 This segues nicely into our final word – community.  This year, the Dille family graciously donated an autographed tennis ball that they got at this year's Miami Open to be raffled off to raise money for the Litchfield Tennis Association.  The ball was signed by many players including Andy Murray, Iga Swiatek, Daniil Medvedev, Victoria Azarenka and others.  Emily Dille created a fantastic book that accompanied the ball that showed the players that signed the ball and facts about them.  The raffle raised almost $300 for the LTA and our lucky winner was Brian Rousslang.
This year's tournament was also blessed and had the privilege of hosting many University of Northwestern players.  These players came to Litchfield and stayed with Taylar Smith's family over the tournament weekend.  It was fantastic to see their skills on the court and to watch the improvement of all the players against them trying to see how they measure up!  The UNW players were all very much a reflection of Taylar: kind, friendly, and were the best examples of what we want our sport and community to be.  In fact, it brings me a lot of joy to see the positive sportsmanship that we see at the tournament across players and fans alike and is what makes Watercade a fantastic tournament each and every year.  Thank you to everyone for sharing your weekend with us.  And it's never too early to mark your calendars for July 7-9, 2023, for the 44th Annual Litchfield Watercade Tennis Tournament.
Wishing you all good health and good fortune in the coming year!