July 12, 2021
The sun has set on a memorable 2021 Watercade Tennis Tournament.  We were able to celebrate having the most participants in the past 7 or 8 years, requiring us to start earlier on Friday afternoon than we have had to do in the past!  We were blessed with slightly cooler weather than typical for the tournament, although players on Sunday started to feel the heat and humidity that mid-July typically brings.  And despite our desperately needed rain for our fields, the rain also held off for the tournament.

The tournament field across events was exceptional and typical Watercade.  Strong players from around the area – Rogers, Elk River, Osakis, Wadena and more displayed their talents for an appreciative fan base over the weekend.  Litchfield was well represented as well from current and recent stand outs, up and coming players, and former players who have come back home to show they still have the touch.

Shanna Kinny, who is now playing at St. Cloud State and Avery Stilwell, who will soon take her formidable talents to Minnesota State Mankato, teamed up to win the Women's Doubles event over another duo of talented Litchfield High School players Britney and Karlee Prahl.  The Prahl sisters had to overcome a strong effort by Litchfield's Ryanna Steinhaus and Kylie Michels just to make the final.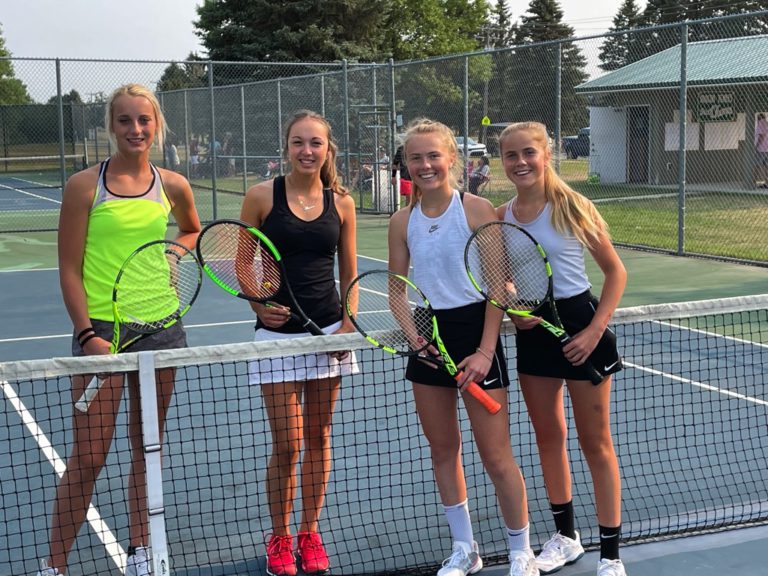 Former Litchfield standout, and now University of Northwestern (St. Paul) player, Taylar Smith teamed up with another Litchfield native and University of Northwestern player Matthew Wedin to win the Mixed Doubles championship with a hard fought 1-6, 6-2, 10-8 win over Avery Stilwell and Litchfield's Tyson Michels.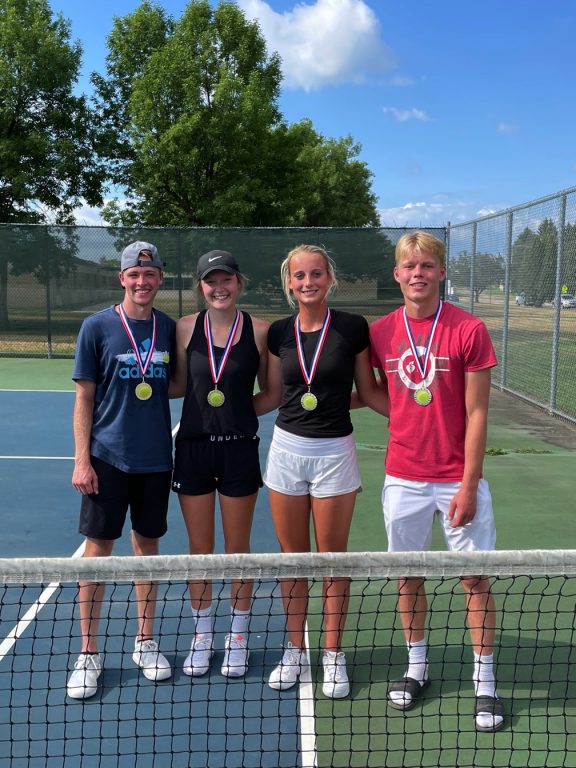 Michels was not the only Litchfield player to have success for the men.  Alex Draeger and Braden Olson advanced to the Men's Open Doubles consolation championship match and both players posted solid results on the singles court.  Draeger eventually bowed out to former Litchfield player, returning home to the tournament for the first time in years, Patrick Boerner; while Olson advanced to the Final of the Men's A Singles Championship before falling to Ryan Schyma of Monticello 6-2, 7-5.  Schyma also was part of the winning Men's A Doubles team with Brian Rousslang of Monticello.

Garrison Jackman, who lost a heartbreaking 3rd set tiebreaker to eventual champ Schyma in the first round battled through the consolation bracket, not losing another set in three matches on his way to the consolation championship.  Litchfield has a long history of developing great men's and women's players, and this year's tournament was a celebration of those players as well as a preview of those to come.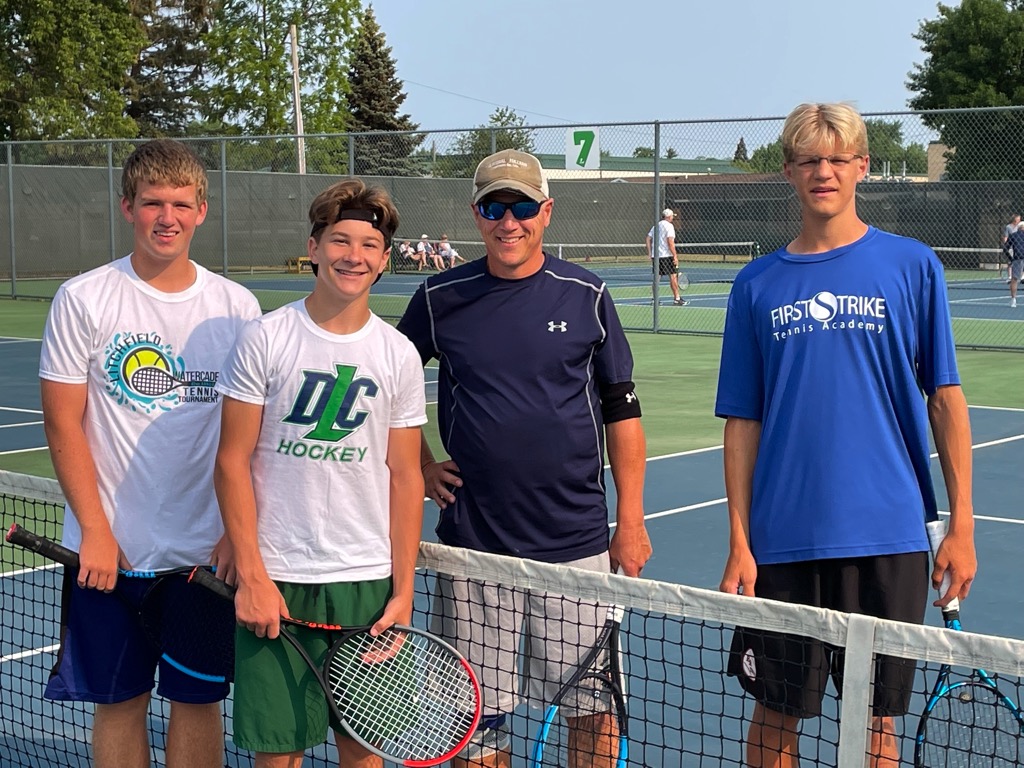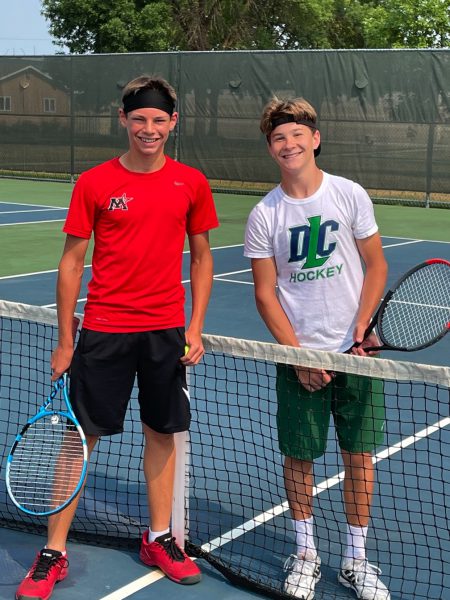 The men's draws were loaded with talented high school players as well as many of the returning adults looking to teach the young guns a thing or two.  This year however, the young guns rose to the challenge, particularly Isaac Maddock (Osakis, MN – Osakis High School) and Tate Reichmann (Glenwood, MN – Minnewaska Secondary) who teamed up to win the Men's Open Doubles championship.  They overcame Vern Larsen (Darwin, MN) and Matthew Wedin in the semi-finals before defeating Brian Rousslang and Ryan Kadelbach (Big Lake, MN) 6-4, 7-5 in the final.

Putting their friendship aside temporarily after their doubles victory, Maddock defeated Reichmann in the Men's Open Singles championship.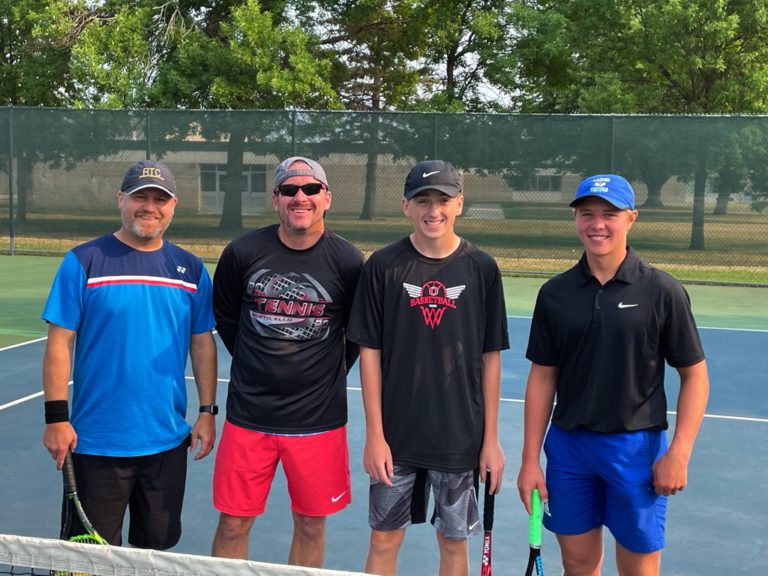 On the women's side, a duo from Rogers took home the Women's Singles and Consolation championships.  Emily Rubbelke, currently playing for Luther College in Decorah, IA, defeated Ella Marohl (St. Cloud, MN) in the championship.  Anna Luksik, who played with Emily at Rogers High School before Emily graduated took home the Women's Consolation Championship.  Finally, Anna and Katie Fiemeyer from Wadena, MN showed great poise and determination after drawing Litchfield's Kinny and Stilwell in the first round of the Women's Doubles bracket.   They came back to win the consolation championship over Rebecca Rousslang (Monticello) and Hannah Mayer (Big Lake).  Mayer will join Stilwell at Minnesota State Mankato in the fall.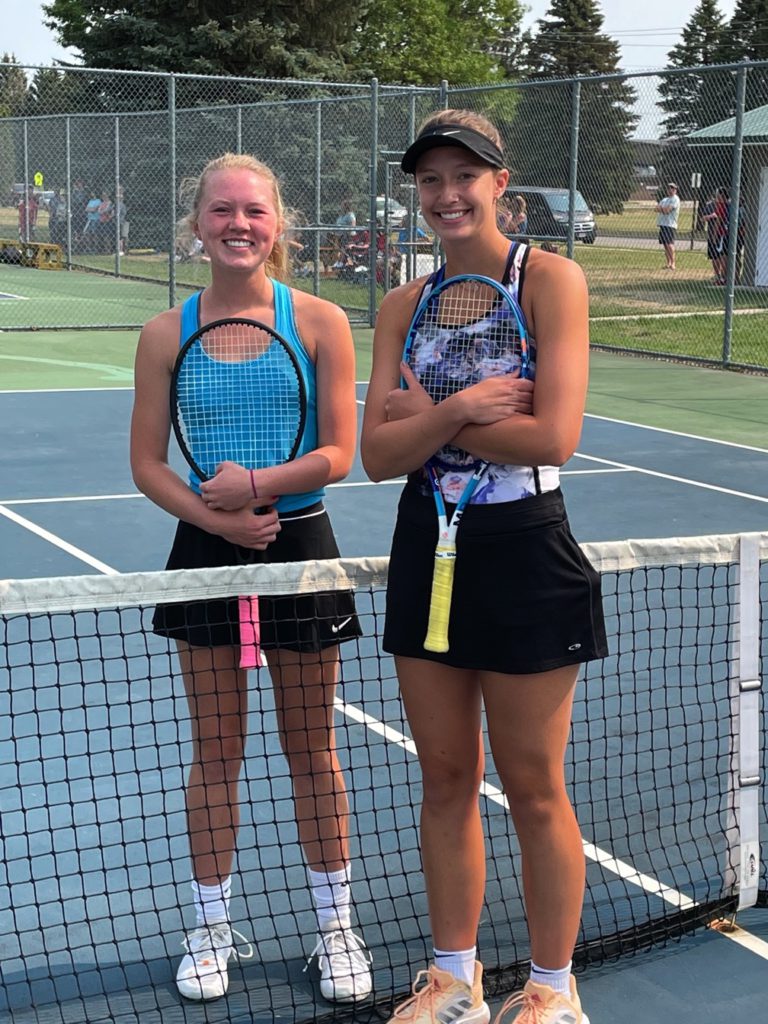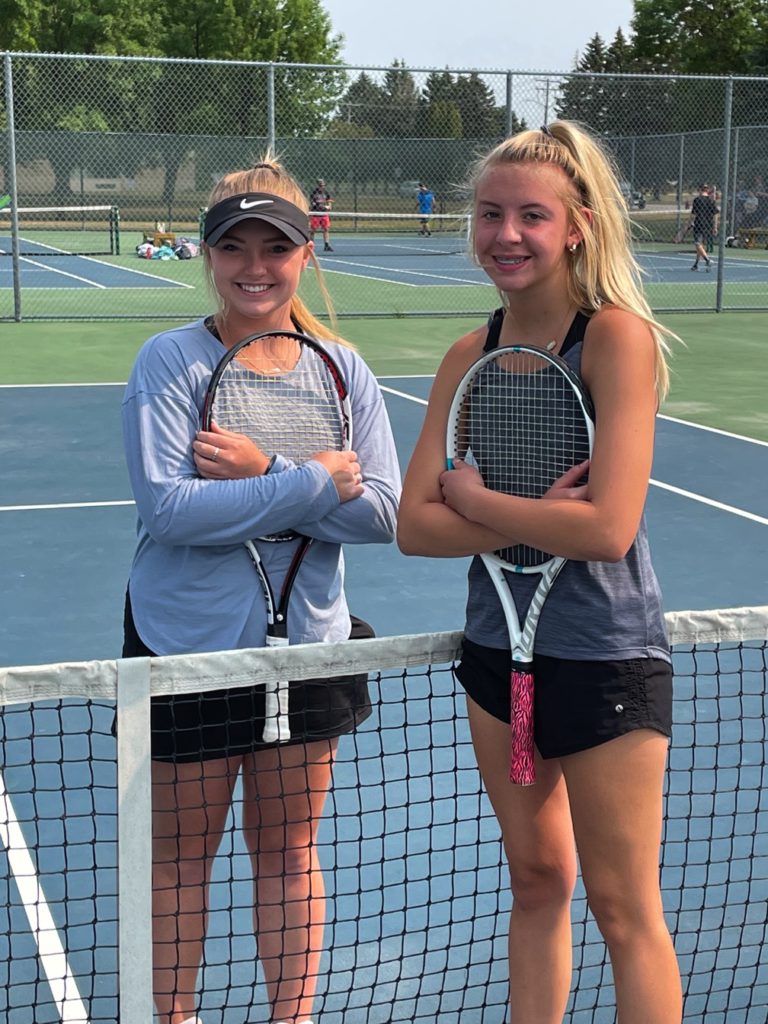 Watercade featured former players returning home to play in the tournament. Jim Leitch (son of Cecil) now of Boulder, Colorado teamed up with Jeff Woods in Men's A Doubles. Tim Miller, former Litchfield resident, now of Sioux Falls, South Dakota brought his family to the tournament as well. Tim and his son John reached the Men's A doubles consolation final before falling to long time Litchfield tournament stalwarts Bob Kopplin and Jack Litzau, while older son Evan and sister Paige reached the Mixed Doubles consolation final. As previously mentioned, former Litchfield grad Patrick Boerner, now of Minneapolis, returned and reached the Men's Open Singles consolation final.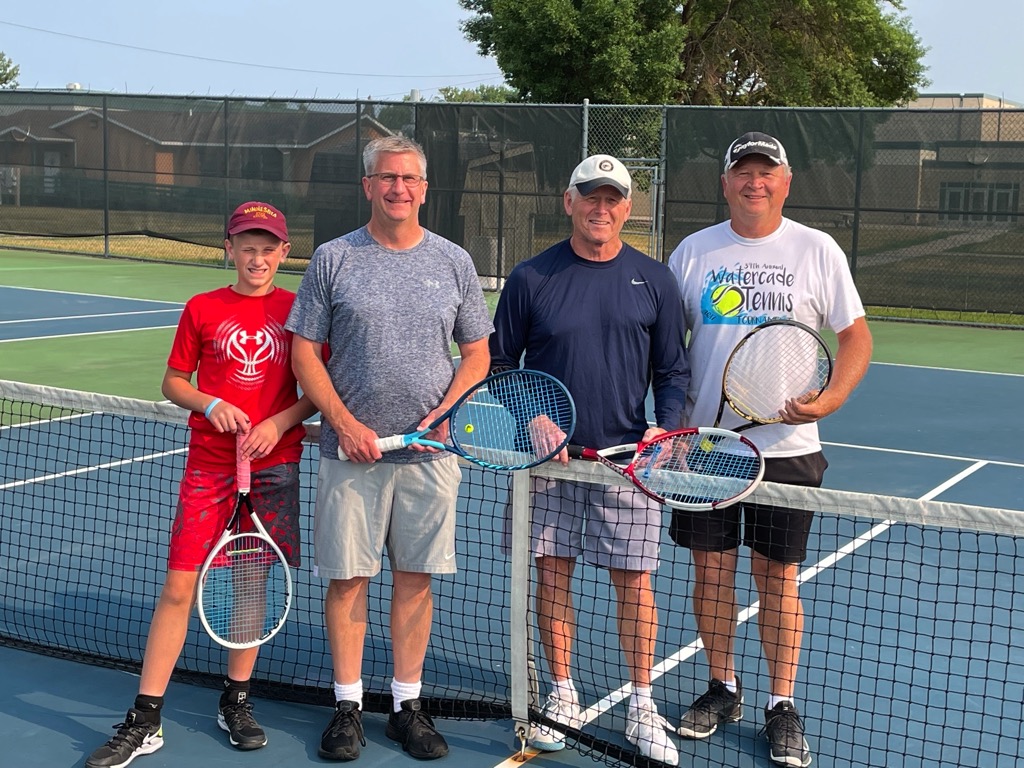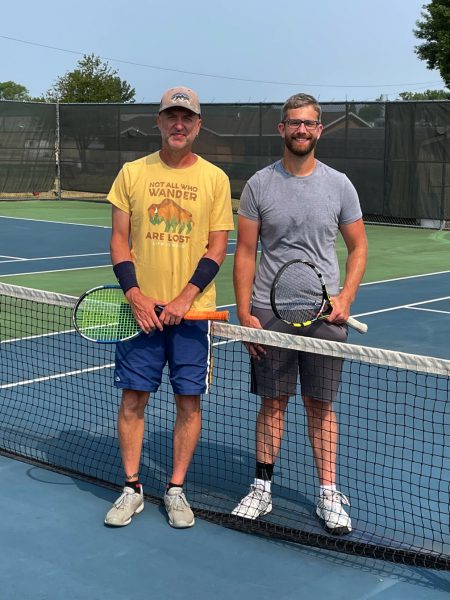 This year's tournament was a celebration of great tennis, fun, and sportsmanship.  We feel very blessed and honored that you chose to spend your weekend with us.  Wishing everyone health, happiness, and success in the coming year.  We hope to see you again next year at Watercade!